Want to download videos from a blogger site? This online blogspot video downloader will help you with it for free and with no limit.
Google allows you to host a blog for free but with an addon domain such as blogspot.com. Many bloggers start their blogging journey from Blogspot and later on shift to WordPress. If you are confused about How do I download a video from someone's website? then the solution is here in the blog post.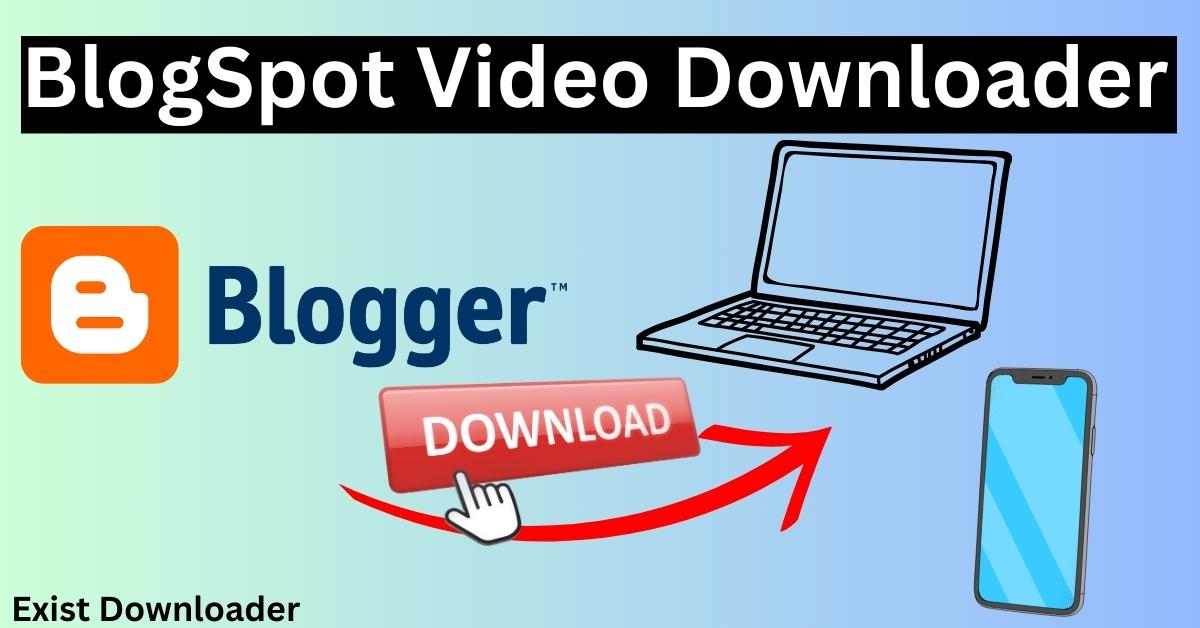 These blogspots allows you to host video and you can use on your blog post. Previously, we had posted a detailed tutorial on how to download videos from Vimeo using an online downloader.
If you are interested in a tutorial on how to download Blogspot video then this tutorial is for you. In this method, we are not going to use any app or software that needs to be installed.
How to use Blogspot Video Downloader
Step 1 : Firstly open a blogspot blog from which you want to download the video. (Blogspot blogs generally end with .blogpspot.com)
Step 2 : Now right-click on the video and click on copy video URL.
Step 3 : Now open Exist Downloader which is a blogger video downloader in any internet browser such as chrome or Edge.
Step 4 : Now paste the video URL in the text area and click on the download button.
Step 5 : The website will start processing, wait for a couple of seconds and you will see different qualities to choose from to download Blogspot video.
Step 6 : Choose the quality and your download process will be start.
In this way, you can download blogger video in your computer. If you are using android phone then continue reading the article.
Use Blogger video downloader in an Android phone
If you are using an Android phone to surf the internet and you are in search of an app to download video from blogger then this tutorial will help you. You don't need to install any app in your phone and instead, you can use an online video downloader. Here are the steps that you need to follow
Step 1 : Unlock your phone and open the blogger from which you want to download videos.
Step 2 : Long press on the video or you can play the video and copy the blogger video link from the address bar.
Step 3 : Now open Blogspot Video downloader on Chrome and paste the copied video URL.
Step 4 : Tap on the download button and your blogspot video downloading will be processed
Step 5 : Choose the quality in which you want to download a blogger video and your video will be downloaded and saved in your phone gallery.
In this way, we can download videos blog from blogger websites easily without downloading any app or software,
FAQ (Blogspot Video Downloader)
1. Which is Blogspot video downloader free?
Exist Downloader is a blogspot downloader that allows you to save videos from blogger website for free.
2. How to Download video from a blog?
To download video from a blog, you need to copy the video link and paste in Exist downloader website which is a online video downloading platform, allows you to save videos from a blog.
3. What are blog videos?
Videos those are uploaded on the blogpsot blogs are refered as blog videos.
Wrapping Up
Hope this tutorial on how to use Blogspot video downloader has helped you to download video from blog. If you face any error while downloading the video, feel free to use the comment section. If you face an error after clicking on the download button, wait for couple of minutes and try again. Sometimes due to server load, it may give you an error.