Facebook reels are getting popular like youtube shorts and Instagram reels. If you are in search of how to download Facebook reels then this Facebook Reels downloader will help you.
If you're one of the many people who love watching Facebook Reels videos, you might be wondering how you can download them to watch offline. Luckily, it's actually quite easy to do! In this article, we'll show you how to download Facebook Reels videos in just a few steps.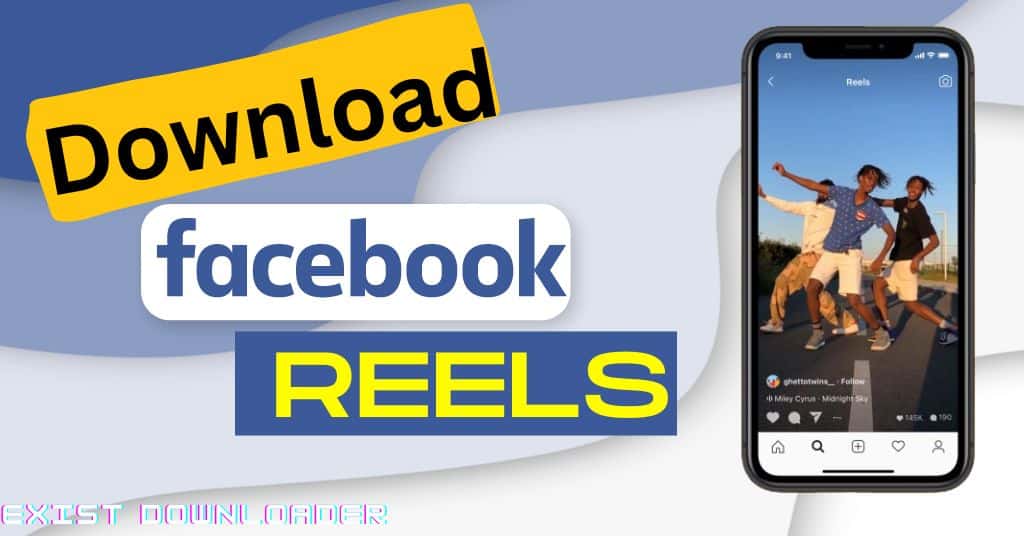 Why download Facebook reel?
Facebook short videos, also known as facebook reels are very popular among users. Sometimes, you wished to share facebook reels on WhatsApp status and in that case, you can download Facebook reel and share it on whatsapp.
Facebook Reels downloader to download FB reels
In you are in search of how to download facebook reels online then you need to use this downloaded. Here are the steps that you need to follow.
Step 1 : Open Facebook in your browser and log in to your account using login credentials.
Step 2 : Now click on the Reels icon to open the reels option or you can even search for the particular reels that you wish to download.
Step 3 : Click on three dots and then click on copy link.
Step 4: Next open Exist Downloader and paste the copied link and click on the download button.
In this way, you can save facebook reels free online in your computer.
How to download Fb Reels videos in Android?
Exist Downloader is an online tool which you can also use in android phone and in computers. If you want to Facebook Reels video download in the gallery then follow the below instructions.
Step 1 : Firstly open Facebook app in your android phone.
Step 2 : Now tap on reels button or search for the reels that you want to download.
Step 3 : Now open the FB reels and tap on three-dot to open options and then tap on copy link to copy fb reels video URL.
Step 4 : Open Exist downloader and paste the link and hit the download button.
This is the method to use Exist Downloader to download Facebook reel videos in android and save into the galley.
How to save a Facebook reel video without downloading
Are you obsessed with a certain Facebook reel but don't want to download it? Here's how you can save the video without downloading it!. Yes, it is possible to save facebook reels video which works like save youtube option available in youtube app. Here are the steps that you need to follow.
Step 1 : First, open facebook app and login to your account
Step 2 : Now go to the Facebook reel you want to save.
Step 3 : Then, click on the three dots in the top right corner of the video.
Step 4 : A drop-down menu will appear–click on "save video."
Step 5 : The video will then be saved to your Facebook Watch History, which you can access by clicking on the three lines in the top left corner of your screen and scrolling down to "Watch History."
Now that you know how to save Facebook reel videos without downloading them, you can watch your favorite reels over and over again without taking up any storage space on your device!
FAQ (Facebook Reels downloader)
1. How to download Fb Reels to your mobile phone or computer?
You can use Exist Downloader online FB reels downloader to download on mobile and computer and you can even share on instagram reels or whatsapp status.
2. What are facebook Reels?
A Facebook reel is a short video that you can create using photos and videos from your Facebook account. You can choose to make a public or private reel, and you can even add music to your reel if you want. Creating a Facebook reel is easy and only takes a few minutes.
3. Why can't I download Fb Reel video?
Facebook don't allows users to download fb reels video in the app or webstie. You need to use Exist Downloader online tool. If you are not able to download FB reels then this is might be the corrupt link or the reels in delete. Ping us if you face problem.
4. How do I share a Facebook reel video on WhatsApp?
To share a Fb reel on whatsapp, you need to use Exist downloader to download it and then open whatsapp and share it on whatsapp status.
5. How do I share a Facebook reel video on Instagram?
Open Exist Downloader and paste the reel video URL to download it. Now this will be saved in gallary, open Instagram and upload it under the reels section.
Conclusion
In conclusion, downloading Facebook reels videos is a quick and easy process that anyone can do. Just follow the simple faceboook reels downloader outlined in this article and you'll be downloading Facebook reels videos in no time. So what are you waiting for? Go out there and start downloading those videos!